Summary of TV Show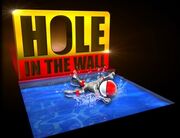 Hole in the Wall is a game show that has aired in two versions on American television.
The first version aired on the Fox television network from 2008 to 2009. The show was an adaptation the Japanese game Nōkabe (脳カベ?) (meaning Brain Wall, nicknamed by YouTube fans as "Human Tetris") in which players must contort themselves to fit through cutouts in a large 13 feet (4.0 m) by 7.5 feet (2.3 m) Styrofoam Styrofoam wall moving towards them on a 50 feet (15 m) track. Fremantle Media North Americaproduced the series. Brooke Burns and Fox announcer Mark Thompson were the hosts of this version. On May 20, 2008, Fox announced that it would commission 13 hours of Hole in the Wall from FremantleMedia North America. According to a Hollywood Reporter report, these hours could be split and aired as 26 episodes. Production began July 13, 2008 at CBS Studios-Radford. On March 17, 2009 Fox pulled the series again, replacing it with reruns of King of the Hill and American Dad!. The program's cancellation was announced in May 2009.
On July 20, 2010, Cartoon Network announced that it picked up the series, now updated for its younger audience. The series premiered October 6, 2010, with Real World Hawaii cast member Teck Holmes as host. A second cycle debuted in April of 2011, and features a new co-host, lifeguard Aaron Gingrich.
For more information about Hole in the Wall, visit here.
Character Appearances in Show
Ad blocker interference detected!
Wikia is a free-to-use site that makes money from advertising. We have a modified experience for viewers using ad blockers

Wikia is not accessible if you've made further modifications. Remove the custom ad blocker rule(s) and the page will load as expected.