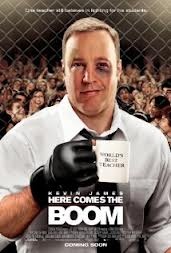 Summary of Movie
Here Comes the Boom is a 2012 sports comedy film directed by Frank Coraci, written by Allan Loeb, Kevin James and Martin Solibakke, and starring Kevin James. The film was released on October 12, 2012, in North America.
A high school biology teacher looks to become a successful mixed-martial arts fighter in an effort to raise money to prevent extra-curricular activities from being axed at his cash-strapped school.
For more information about Here Comes the Boom, visit here.
Appearances in MAD
Ad blocker interference detected!
Wikia is a free-to-use site that makes money from advertising. We have a modified experience for viewers using ad blockers

Wikia is not accessible if you've made further modifications. Remove the custom ad blocker rule(s) and the page will load as expected.