Summary of TV Show
Hannah Montana
is an American television series, which debuted on March 24, 2006 on
Disney Channel
, and also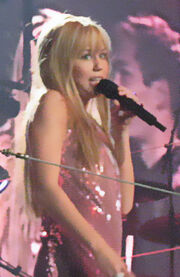 airs Saturday mornings on
ABC
as part of the ABC Kids block. As of July 22, 2011. Hannah Montana will no longer be aired in reruns on Disney Channel in the 1AM & 1:30AM Western Time slot and has been replaced by
Good Luck Charlie
.
The series focuses on a girl who lives a double life as an average teenage school girl named Miley Stewart (played by Miley Cyrus) by day and a famous pop singer named Hannah Montana by night, concealing her real identity from the public, other than her close friends and family.
The series has been nominated for a Primetime Emmy Award for Outstanding Children's Program from 2007 through 2010. Hannah Montana: The Movie was released in theaters on April 10, 2009. The third season of the series premiered on November 2, 2008 and ended on March 14, 2010. The show was renewed for the fourth and final season, which started production on January 18, 2010, and ended production on May 14, 2010. The final season premiered on July 11, 2010, and became the last Disney Channel sitcom to transition from standard definition to high definition in the process. The fourth season of Hannah Montana was promoted as Hannah Montana Forever. The one-hour series finale aired on January 16, 2011.
For more information about Hannah Montana, visit the Miley Cyrus Page, here, or here.
Appearances in Show
Ad blocker interference detected!
Wikia is a free-to-use site that makes money from advertising. We have a modified experience for viewers using ad blockers

Wikia is not accessible if you've made further modifications. Remove the custom ad blocker rule(s) and the page will load as expected.