Summary of Character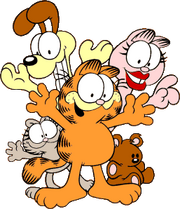 Garfield Arbuckle
is a famous fat cat from a comic & TV series of the same name that lives with a man named Jon and a dog named Odie. There were two films made about him. In June 19, 1978, the first Garfield strip came out, introducing Garfield and Jon.
For more information about Garfield, visit here or here.
Character Appearances in MAD
Trivia
Ad blocker interference detected!
Wikia is a free-to-use site that makes money from advertising. We have a modified experience for viewers using ad blockers

Wikia is not accessible if you've made further modifications. Remove the custom ad blocker rule(s) and the page will load as expected.