Summary of Song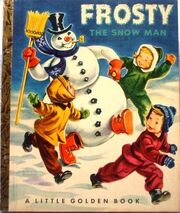 "
Frosty the Snowman
" is a popular song written by Walter "Jack" Rollins and Steve Nelson, and first recorded by Gene Autry and the Cass County Boys in 1950. It was written after the success of Autry's recording of "
Rudolph the Red-Nosed Reindeer
" the previous year; Rollins and Nelson shipped the new song to Autry, who recorded "Frosty" in search of another seasonal hit. Like "Rudolph," "Frosty" was subsequently adapted to other media including a popular television special. The song was originally titled "Frosty the Snow Man."
For more information about Frosty the Snowman, visit here.
Appearances in Show
Ad blocker interference detected!
Wikia is a free-to-use site that makes money from advertising. We have a modified experience for viewers using ad blockers

Wikia is not accessible if you've made further modifications. Remove the custom ad blocker rule(s) and the page will load as expected.