Summary of Movie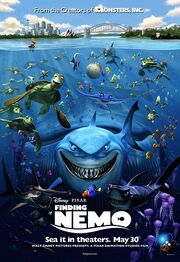 Finding Nemo is a 2003 American computer-animated comedy-drama adventure film produced by Pixar Animation Studios and released by Walt Disney Pictures. Written and directed by Andrew Stanton with co-direction by Lee Unkrich, the film stars the voices of Albert Brooks, Ellen DeGeneres, Alexander Gould, And Willem Dafoe. It tells the story of the overprotective Ocellaris clownfish named Marlin who, along with a regal blue tang named Dory, searches for his abducted son Nemo all the way to Sydney Harbor. Along the way, Marlin learns to take risks and comes to terms with Nemo taking care of himself
The film additionally features the voices of Willem Dafoe as Gill, Brad Garrett as Bloat, Allison Janney as Peach, Austin Pendleton as Gurgle, Stephen Root as Bubbles, Vicki Lewis as Deb, Joe Ranft as Jacques, Geoffrey Rush as Nigel, Andrew Stanton as Crush and Seagulls, Nicholas Bird as Squirt, Bob Peterson as Mr. Ray, Barry Humphries as Bruce, Eric Bana as Anchor, Bruce Spence as Chum, Jordy Ranft as Tad, Erica Beck as Pearl, Erik Per Sullivan as Sheldon and John Ratzenberger as the school of moonfish.
Finding Nemo was released on May 30, 2003, and has received universal critical acclaim since then. The film won the Academy Award for Best Animated Feature, and was nominated in three more categories, including Best Original Screenplay. Finding Nemo became the highest-grossing animated film at the time and was the second highest-grossing film of 2003. earning a total of $871 million worldwide by the end of its initial theatrical run.
The film is the best-selling DVD title of all time, with over 40 million copies sold as of 2006, and was the highest-grossing G-rated film of all time before Pixar's own Toy Story 3 overtook it. The film was re-released in 3D in 2012. In 2008, the American Film Institute named it the 10th greatest animated film ever made as part of their 10 top 10 lists. A sequel, Finding Dory, was released on June 17, 2016 in the United States.
For more information about Finding Nemo, visit here.
Appearances in Show