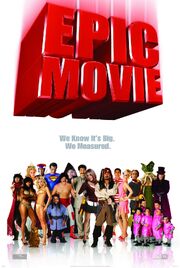 Summary of Movie
Epic Movie is a 2007 American parody film directed and written by Jason Friedberg and Aaron Seltzer and produced by Paul Schiff. It was made in a similar style to Date Movie, Friedberg and Seltzer's previous film. The film mostly references The Chronicles of Narnia: The Lion, the Witch and the Wardrobe and Tim Burton's version of Charlie and the Chocolate Factory. The song "Ms. New Booty" by Bubba Sparxxx gained commercial attention for being featured in Epic Movie.
For more information about Epic Movie, visit here.
Appearances in MAD
Ad blocker interference detected!
Wikia is a free-to-use site that makes money from advertising. We have a modified experience for viewers using ad blockers

Wikia is not accessible if you've made further modifications. Remove the custom ad blocker rule(s) and the page will load as expected.