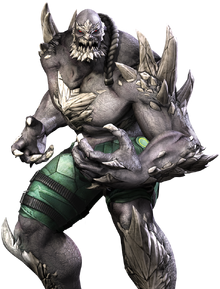 Summary of Character
Doomsday is a fictional character and supervillain who appears in comic books published by DC Comics. Doomsday first appeared in Superman: The Man of Steel #18 (Nov. 1992) and was created by writer-artist Dan Jurgens. Imagine Games Network's (IGN's) list of the Top 100 Comic Book Villains of All Time ranked Doomsday as #46. He is best known as the character who killed Superman.
For more information about Doomsday, visit here.
Character Appearances in Show
Ad blocker interference detected!
Wikia is a free-to-use site that makes money from advertising. We have a modified experience for viewers using ad blockers

Wikia is not accessible if you've made further modifications. Remove the custom ad blocker rule(s) and the page will load as expected.