Summary of Movie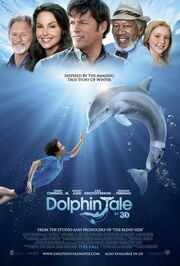 Dolphin Tale
is a 2011 family drama film directed by Charles Martin Smith from a screenplay by Karen Janszen and Noam Dromi and a book of the same name. It stars Harry Connick, Jr., Ashley Judd, and Morgan Freeman.
The book and film are "inspired by the amazing true story of Winter", a bottlenose dolphin that was rescued in December 2005 off the Florida coast and taken in by the Clearwater Marine Aquarium. Winter lost her tail after becoming entangled with a rope attached to a crab trap and was fitted with a prosthetic one.
For more information, visit here.
Appearances in MAD
Ad blocker interference detected!
Wikia is a free-to-use site that makes money from advertising. We have a modified experience for viewers using ad blockers

Wikia is not accessible if you've made further modifications. Remove the custom ad blocker rule(s) and the page will load as expected.