Mailman vs. Dog is an animated short made by Jorge R. Gutierrez.
Transcript Act 1
Alan: I don't care what you say, I'm not coming in.
Dog: For the millionth time, I won't bite you. I just want my mail.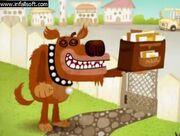 Alan: Just...say you won't promise you'll bite me.
Dog: I promise I won't bite you.
POW!
Dog: Idiot.
Transcript Act 2
Alan: Ooh, a package. Who's it from?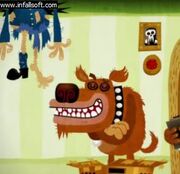 Postman: Uh, Mr. Frank Retriever.
Alan: Frank Retriever? Hmm....

POW!!
Dog: Frank Retriever. Really? You so deserve this.
Transcript Act 3
Dog: First off, I wanna thank you for coming. Between losing my ball then this diet got me down. Well, I haven't been myself lately and I hope you accept this as my apology.
Alan: A new mail bag?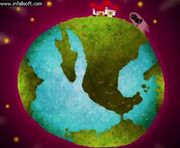 Dog: And I have your monograph. See? MM.
Alan: My name is Alan.
Dog: Really? This whole time I thought it was mailman.
Alan: Thanks.
Dog: The least I can do for you. Well, if you excuse me, I'll hit the hydrant.
Waiter: Hmm, special dessert for the gentleman.
Alan: I didn't order any-
POW!!!
Dog: Haha, I knew your name was Alan!
Video
Ad blocker interference detected!
Wikia is a free-to-use site that makes money from advertising. We have a modified experience for viewers using ad blockers

Wikia is not accessible if you've made further modifications. Remove the custom ad blocker rule(s) and the page will load as expected.