Summary of TV Show
Destroy Build Destroy
is a live-action program on
Cartoon Network
. It focuses on an unusual type of a game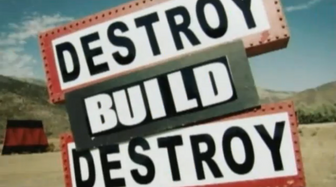 show, where two teams destroy a random object and build vehicles out of them, and then destroy the losers' creation. It airs Wednesdays 8:30 PM and Sunday at 9:00 AM. It is one of the few live-action programs currently airing on Cartoon Network.
Destroy Build Destroy is a game show hosted by musician Andrew W.K. in which two groups (a "green or blue" team and an "orange or yellow" team, usually grouped by theme such as common interests) of three teenage contestants get to destroy various objects, then build vehicles out of the wreckage. The show features high powered explosives, rocket launchers, bazookas, and other destructive tools. The winning team gets $3,000 ($1,000 dollars each) as a prize, the losers' creation then gets destroyed by the team of the winning vehicle. However, if a tie occurs by the end of the final round, no one wins anything, and both vehicles get destroyed.
For more information about Destroy Build Destroy, visit here.
Appearances in Show
Voice Connections
Ad blocker interference detected!
Wikia is a free-to-use site that makes money from advertising. We have a modified experience for viewers using ad blockers

Wikia is not accessible if you've made further modifications. Remove the custom ad blocker rule(s) and the page will load as expected.