Summary of Movie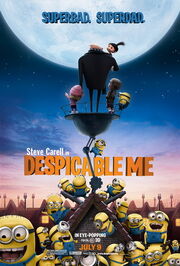 Despicable Me
is a 2010 American computer-animated 3D comedy film from Universal Pictures and Illumination Entertainment that was released on July 9, 2010 in the United States. The film stars Steve Carell, Jason Segel,
Russell Brand
, Julie Andrews, Will Arnett, Kristen Wiig, and
Miranda Cosgrove
. It is the first CGI feature produced by Universal, in association with its Illumination Entertainment division. It was entirely animated in the French studio Mac Guff in Paris, France.
The film earned positive reviews from critics, and grossed more than $251 million in the US, against a budget of $69 million.
A sequel is scheduled for release on July 3, 2013, along with a spin-off film featuring the Minions for release on July 10, 2015.
For more information about Despicable Me, visit here or here.
Appearances in Show
Ad blocker interference detected!
Wikia is a free-to-use site that makes money from advertising. We have a modified experience for viewers using ad blockers

Wikia is not accessible if you've made further modifications. Remove the custom ad blocker rule(s) and the page will load as expected.