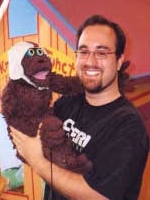 Dan Milano (born September 10, 1972, Northport, New York) is an American voice actor, puppeteer, writer, and director. He was one of the creators of the Fox sitcom Greg the Bunny and performed the title character Greg as well as Warren the Ape. He is also one of the voice actors and writers of Robot Chicken, and was nominated for an Emmy for writing on Robot Chicken: Star Wars 2.
Episodes Acted In
Ad blocker interference detected!
Wikia is a free-to-use site that makes money from advertising. We have a modified experience for viewers using ad blockers

Wikia is not accessible if you've made further modifications. Remove the custom ad blocker rule(s) and the page will load as expected.