Summary of Movie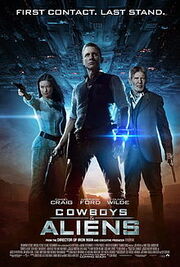 Cowboys & Aliens is a 2011 American science fiction Western film starring Daniel Craig, Harrison Ford, and Olivia Wilde. The film, directed by Jon Favreau, is based on the 2006 graphic novel of the same name created by Scott Mitchell Rosenberg. Cowboys & Aliens was released in the United States and Canada on July 29, 2011.
For more information about Cowboys & Aliens, visit here or here.
Appearances in Show
Ad blocker interference detected!
Wikia is a free-to-use site that makes money from advertising. We have a modified experience for viewers using ad blockers

Wikia is not accessible if you've made further modifications. Remove the custom ad blocker rule(s) and the page will load as expected.