Skit from The Buzz Identity/Two and a Half Man
This Ad is a parody of Club Med.
Transcript
(Announcer) Being a werewolf is awesome!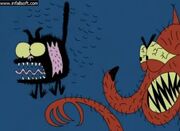 The only drawback? You have to wait the whole month to enjoy it!
That's why you deserve a trip to Club Moon, the werewolves only resort.
Located on the beautiful Planet Uranus. Holds to 27, count 'em, 27 moons.
So now you can be a werewolf 27 times as much!
And our state-of-the-yard shuttle to wish your furry little butts directly to Club Moon.
(Wolf 1) Wait a minute. Werewolves can't survive in space!
Well, no kidding!
Club Moon awarded the silver bullet of excellence and brought to you by H.O.W.L, Humans Ousting Werewolves League.
Ad blocker interference detected!
Wikia is a free-to-use site that makes money from advertising. We have a modified experience for viewers using ad blockers

Wikia is not accessible if you've made further modifications. Remove the custom ad blocker rule(s) and the page will load as expected.