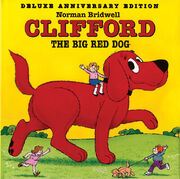 Clifford the Big Red Dog
is an American children's book series first published in 1963. Written by Norman Bridwell, the series helped establish Scholastic Books as a premier publishing company.
Clifford was the runt of the litter, and was chosen by a city child named Emily Elizabeth as her birthday present. No one expected Clifford to grow, but Emily Elizabeth's love for her tiny red puppy changed Clifford dramatically. Before long, he was over 25 feet (7.6 m) tall, forcing the Howard family to leave the city and move to the open spaces of Birdwell Island.
For more information about Clifford the Big Red Dog, visit here or here.
Appearances in Show
Ad blocker interference detected!
Wikia is a free-to-use site that makes money from advertising. We have a modified experience for viewers using ad blockers

Wikia is not accessible if you've made further modifications. Remove the custom ad blocker rule(s) and the page will load as expected.