Summary of Character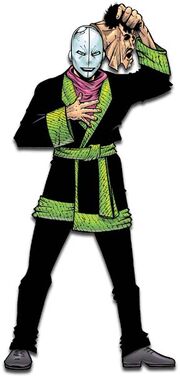 The
Chameleon
is a fictional character that appears in comic books published by Marvel Comics. The character first appears in The Amazing Spider-Man #1 (March 1963), and was created by writer Stan Lee and artist Steve Ditko; the Chameleon is the first member of
Spider-Man
's rogues' gallery, based on issue publication date, excluding the burglar who murdered Ben Parker.
The Chameleon was born a Soviet citizen named Dmitri Smerdyakov. In his youth, he was a servant and half-brother to Kraven the Hunter, Sergei Kravinoff, and eventually became a minor associate to one Gustav Fiers. Although Dmitri and Sergei were friends, Sergei was often abusive to Smerdyakov, leading to a combination of admiration and resentment towards Kravinoff. Eventually, Smerdyakov emigrated to the United States of America. As he had made a talent for himself during his youth, impressing his brother by impersonating friends and neighbors, he assumed an even more impressive disguise: the identity of the Chameleon. During his first known criminal outing, he impersonated Spider-Man, though he was exposed and arrested. Shortly afterward, Kravinoff, now Kraven the Hunter, himself came to America, and the Chameleon set his old associate's sights on Spider-Man. Both men became long-time enemies of Spider-Man, part of his primary rogues' gallery.
For more information about Chameleon, visit here.
Appearances in Show
Ad blocker interference detected!
Wikia is a free-to-use site that makes money from advertising. We have a modified experience for viewers using ad blockers

Wikia is not accessible if you've made further modifications. Remove the custom ad blocker rule(s) and the page will load as expected.