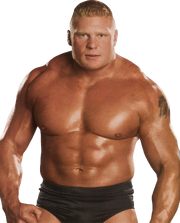 Brock Edward Lesnar (/ˈlɛznər/; born July 12, 1977) is an American professional wrestler, actor, former mixed martial artist and amateur wrestler, signed with WWE and appearing on its Raw brand. He is also a former UFC Heavyweight Champion and former #1 ranked mixed martial arts (MMA) Heavyweight by Sherdog; he was ranked #5 before he announced his retirement at the end of 2011. Lesnar is an accomplished amateur wrestler, winning the 2000 NCAA heavyweight wrestling championship and placing second in 1999, losing in the finals to 1999 world freestyle wrestling champion and future New England Patriots offensive lineman Stephen Neal. Lesnar appears in The Mixed Martial Artist.
Ad blocker interference detected!
Wikia is a free-to-use site that makes money from advertising. We have a modified experience for viewers using ad blockers

Wikia is not accessible if you've made further modifications. Remove the custom ad blocker rule(s) and the page will load as expected.