This ad is from Pooh Grit/Not-a-Fan-a-Montana.
Plot
Ready to play like you were a Pokémon now you can with Big League Pika-chew.
Transcript
Announcer: When you are in a Big League, the excitement is electric! And now you can catch that electricity with...
ZAP!
Announcer: Big League Pika-chew!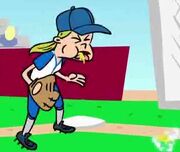 ZAP!
Umpire: Uh, ow?
Announcer: Because Big League Pika-chew is the only gum made from actual Pikachus!
Pikachu: No no wait, oh oh oh, WHY WHY?
Girl: Wait, they're made from WHAT? (spitting)
Announcer: For tasty wads of shredded Pikachus, grab Big League Pika-chew: The gum made for you from dead Pikachus!
ZAP!
Trivia
Ad blocker interference detected!
Wikia is a free-to-use site that makes money from advertising. We have a modified experience for viewers using ad blockers

Wikia is not accessible if you've made further modifications. Remove the custom ad blocker rule(s) and the page will load as expected.