Summary of Character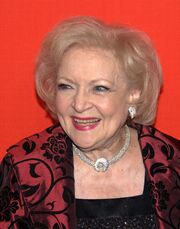 Betty White Ludden
, or better known as
Betty White
, is an American actress, comedienne, singer, author, and former game show personality. With a career spanning seven decades since 1939, she is best known to modern audiences for her television roles as Sue Ann Nivens on
the Mary Tyler Moore Show
and Rose Nylund on
the Golden Girls
. As of 2011, she is starring as Elka Ostrovsky in the TV Land sitcom
Hot in Cleveland
. She has also released several books over the span of her career. In August 2010, she entered a deal with G.P. Putnam Sons to produce two more books, the first of which was scheduled for release in 2011.
White has won six Emmy Awards and received 20 Emmy nominations over the course of her career, including being the first woman ever to receive an Emmy for game show hosting (for the short-lived Just Men!). In May 2010, White became the oldest person to guest-host Saturday Night Live, for which she also received a Primetime Emmy Award. She made regular appearances on the game shows Password and Match Game and played recurring roles on Mama's Family, Boston Legal, and the Bold and the Beautiful.
For more information about Betty White, visit here.
Appearances in MAD
Ad blocker interference detected!
Wikia is a free-to-use site that makes money from advertising. We have a modified experience for viewers using ad blockers

Wikia is not accessible if you've made further modifications. Remove the custom ad blocker rule(s) and the page will load as expected.