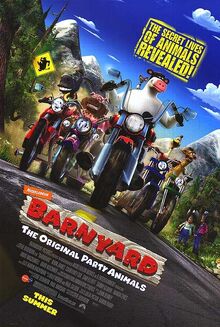 Barnyard (also known as Barnyard: The Original Party Animals) is a 2006 American-German computer-animated comedy film, distributed by Paramount Pictures, co-produced by Nickelodeon Movies, O Entertainment and Omation Animation Studio, directed by Steve Oedekerk (who was also one of the producers and the main writer) with music by John Bebney and co-produced by Paul Marshal. It was released on August 4, 2006. The film stars the voices of Kevin James, Courteney Cox, Sam Elliott Danny Glover, Wanda Syke, Andie MacDowell and David Koechner. Most of the production was carried out in San Clemente, California
Barnyard grossed $116.5 million worldwide against a $51 million production budget, and received mixed to negative reviews. The film spawned a television series, titled Back at the Barnyard, which ran for two seasons between 2007 and 2009.
Ad blocker interference detected!
Wikia is a free-to-use site that makes money from advertising. We have a modified experience for viewers using ad blockers

Wikia is not accessible if you've made further modifications. Remove the custom ad blocker rule(s) and the page will load as expected.