Summary of Character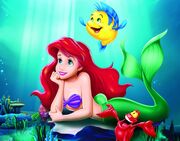 Ariel is a fictional character and the title character of Walt Disney Pictures' 28th animated film The Little Mermaid (1989). She subsequently appears in the film's prequel television series, direct-to-video sequel The Little Mermaid II: Return to the Sea (where her daughter takes over as the lead character, while Ariel is a secondary character instead) and direct-to-video prequel The Little Mermaid: Ariel's Beginning. Ariel is voiced by Jodi Benson in all official animated appearances and merchandise. She is fourth in the Disney Princess lineup, and the only princess to become a mother to her own child.
Ariel has a very distinctive appearance, with her waist-length flowing bright red hair, baby-blue eyes, dark green scaly mermaid tail and a lavender seashell bra. In the films and television series, she is the seventh and youngest daughter of King Triton and Queen Athena of an underwater kingdom of Merfolk. She is often rebellious, and in the first film longs to be a part of the human world. She marries Prince Eric, whom she rescued from a shipwreck, and together they have a daughter, Melody. The character is based on the title character of Hans Christian Andersen's "The Little Mermaid" story, but was developed into a different personality for the 1989 animated film adaptation.
Appearances in MAD