Summary of Character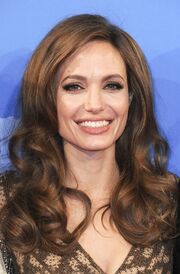 Angelina Jolie ( /dʒoʊˈliː/ joh-lee, born Angelina Jolie Voight; June 4, 1975) is an American actress and director. She has received an Academy Award, two Screen Actors Guild Awards, and three Golden Globe Awards, and was named Hollywood's highest-paid actress by Forbes in 2009 and 2011. Jolie is noted for promoting humanitarian causes as a Goodwill Ambassador for the United Nations High Commissioner for Refugees (UNHCR). She has been cited as the world's "most beautiful" woman, a title for which she has received substantial media attention.
For more information about her, visit here.
Appearances in Show
Ad blocker interference detected!
Wikia is a free-to-use site that makes money from advertising. We have a modified experience for viewers using ad blockers

Wikia is not accessible if you've made further modifications. Remove the custom ad blocker rule(s) and the page will load as expected.