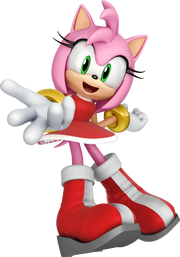 Amy Rose (エミー・ローズ Emī Rōzu?), also formerly known as Rosy the Rascal (ロージー・ザ・ラスカル Rōjī za Rasukaru?), is a pink, female hedgehog who has chased Sonic in love and has been trying to win his heart by any means, including impressing him by fighting robots, and jokingly threatening to keep him locked in prison. She was the first female character introduced, being introduced in 1993, into the Sonic universe and is also one of the most popular, coming in fifth place on an official popularity poll.
Like Sonic and other characters in the series, Amy is significantly shorter and lighter than humans her same age. She is 12 years old, 90 cm (2'11") tall (although sometimes it looks as if she's almost the same height as Sonic), and keeps her weight a secret. She was described as being 8 years old in Sonic CD, but from Sonic Adventure onwards she has grown older (by 4 years). Also, with the addition of Cream the Rabbit, Amy seems to have found herself a sidekick similar to Sonic's own Tails (as implied in Sonic Battle, Sonic Heroes, Sonic Advance 3, and Shadow the Hedgehog).
Appearances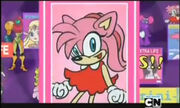 Episode 16 Gaming's Next Top Princess: Amy appears as one of the sprites.
Ad blocker interference detected!
Wikia is a free-to-use site that makes money from advertising. We have a modified experience for viewers using ad blockers

Wikia is not accessible if you've made further modifications. Remove the custom ad blocker rule(s) and the page will load as expected.