Summary of TV Show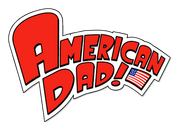 American Dad!
is an American animated sitcom created by
Seth MacFarlane
for the
Fox Broadcasting Company
. The show is owned by Underdog Productions and Fuzzy Door Productions. It is produced in association with
20th Century Fox
Television. Creators and main directors, MacFarlane (creator of
Family Guy
) as well as two former
Family Guy
writers, Mike Barker and Matt Weitzman aired the pilot episode in the United States on Fox on February 6, 2005, thirty minutes after the end of
Super Bowl
XXXIX; the regular series began May 1, 2005, after the season premiere of
Family Guy
.
American Dad!
follows the events of CIA agent Stan Smith and his family. Unlike
Family Guy
,
American Dad!
does not heavily rely on cutaway gags but instead focuses more on situational humor and non sequiturs.
For more information about American Dad!, visit here.
Appearances in MAD
Episode 22 (48) Garfield of Dreams: Seth MacFarlane has a bobblehead of Stan Smith. They also reference to Roger twice. First, they mentioned an alien who likes peanut butter cookies. Then, when Seth MacFarlane is making up a new show, one of his ideas involves a talking alien.
Ad blocker interference detected!
Wikia is a free-to-use site that makes money from advertising. We have a modified experience for viewers using ad blockers

Wikia is not accessible if you've made further modifications. Remove the custom ad blocker rule(s) and the page will load as expected.