Al Pacino and the Chipmunks / Taylor Lautner's Deleted Twilight Shirtless Scenes is the 20th episode of MAD Season 2, and the 46th overall episode of MAD.
Episode Summary
Al Pacino and the Chipmunks: Alvin and the Chipmunks get washed up on an island and get a new member for their band.
Taylor Lautner's Deleted Twilight Shirtless Scenes: Taylor Lautner and Kristen Stweart show some Shirtless Twlight Scenes deleted because they didn't make the cut
Segments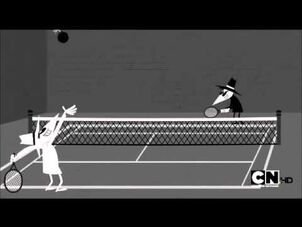 Gallery
Transcript
Trivia
This is the first time I Hate My Teenage Daughter appeared.
This is the second time Spy vs. Spy was lineless, and the second time the MAD Security Cam appeared directly before Spy vs. Spy.
This is the third time Alvin and the Chipmunks showed up, and the third time MAD does a musical segment.
11th appearance of the MAD Security Cam segment.
Fifth appearance of the Bad Idea segment. The previous appearances were:
Voices
Ad blocker interference detected!
Wikia is a free-to-use site that makes money from advertising. We have a modified experience for viewers using ad blockers

Wikia is not accessible if you've made further modifications. Remove the custom ad blocker rule(s) and the page will load as expected.