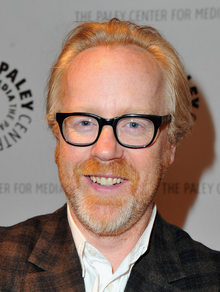 Adam Whitney Savage (born July 15, 1967) is an American industrial design and special effects designer/fabricator, actor, educator, and co-host of the Discovery Channel television series MythBusters and "Unchained Reaction". His model work has appeared in major films, including Star Wars: Episode II - Attack of the Clones and The Matrix Reloaded. He is a prominent member of the skeptic community. He lives in San Francisco with his twin sons and wife, Julia. Savage along with Jamie Hyneman appear in Ancient Greek MythBusters.
Ad blocker interference detected!
Wikia is a free-to-use site that makes money from advertising. We have a modified experience for viewers using ad blockers

Wikia is not accessible if you've made further modifications. Remove the custom ad blocker rule(s) and the page will load as expected.